Intelligent Quantifier-11
Software Overview
Intelligent Quantifier-11 (IQ-11) for Windows 10 and Windows 7, a software system for analyzing scanned images of 1-D electrophoresis separations, is fully compliant with 21CFR Part 11. The 21CFR Part 11 features are not an add-on; they are an integral part of the program. Analysis methods, standards, and report templates are developed at the Administrator access level. (Details further below)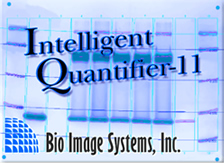 Fully 21 CFR Part 11 Compliant
No Need for Excel Spreadsheets!
Powerful Reporting Capabilities
Complete 1-D Analysis Package
---
(Click on images to enlarge)
Options: IQ/OQ, Installation and Training, Complete Systems
Printable version of product features. (PDF)
---
Fully 21 CFR Part 11 Compliant
Not merely Windows login and password, but fully integrated logins, passwords, and record signings
Signing to acquire, save changes, and report
Optional comments for every signing
User name and title on all data reports
Analyst, supervisor, and administrator access levels
Audit trail of all operations
System audit trail
---
Excel is not GMP Compliant. IQ-11 Is!
Do you need proprietary calculations or reports in a fully GMP-compliant environment? Excel is not the solution!
Have you received an FDA 483 observation about your lab image analysis system? Excel is not the solution!
We can help you. With Bio Image Systems, we write software and own all rights to IQ-11. We can integrate your calculations and reports into IQ-11. Bio Image is the solution!
All calculations done inside IQ-11
Full Data Integrity – audit trails, two-factor signings, data versioning, and much, much more
No transposition errors
No linking off to potentially non-compliant applications
---
Powerful Reporting Capabilities
Electronic signatures AND electronic review
Administrator created report templates specify report header and footer, lane header and footer, and band data
Choose from dozens of data and meta-data items
Specify every lane on a new page, or auto-fit multiple lanes per page
Every report must have a signature, date and time, and page N of M.
---
Complete 1-D Analysis Package
Automatically detects lanes, finds bands, including irregularly shaped bands, i.e., biphasic bands, "smiling bands," or saturated bands that are substantially wider than the rest of the lane
Automatically quantifies bands by defining actual band boundaries based on inflection point analysis
Edit all lanes, bands, and standards
Mw / IEF standards
Dilution series (concentration standards)
Image prints with annotation
And we have a blot analysis package too
---

How To Buy Our Software?
Send an email for a quote.
info@bioimage.net