Colony Counter
Colony Counter Overview
The Bio Image Colony 100 combines a dual-light source imaging station, a 3 mega-pixel color CCD camera, and our industry proven Intelligent Quantifier® Colony Counting software, into a system which accurately counts colonies with the touch of a button.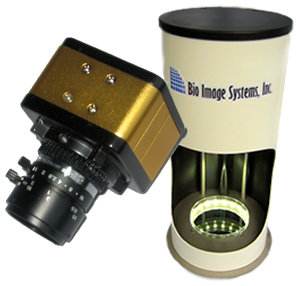 Bio Image Colony 100
View Specifications
A System that Accurately Counts Colonies
Colony 100 is a complete system solution.
Whether you are in QA/QC, microbiology, or antibiotic testing
Whether you have agar plates or gridded membranes, colormetric samples or GFP-labeled colonies
Whether you run Bioburden tests, or use KB zones of inhibition
---
Manual or Automatic? You Decide.
You can perform each step in the process, or use our proven automation techniques: specify the light source (white transillumination, white or blue epi), camera settings, detection sensitivities, filtering parameters, and report layout. Then save the protocol for easy use with the next experiment.
Easy-to-use, yet powerful, software.
Bio Image Intelligent Quantifier® software is used by thousands of researchers across the world every day to provide accurate quantitation and analysis. The software is intuitive and easy to use, with built-in automation and workflow tools so you can quickly define protocols and run them easily and repetitively.
Sanger Genome Centre, Cambridge


'The Colinator' stem cell picking robot uses Bio Image Colony Counting software.
I worked closely with the ES Cell Mutagenesis team to design 'The Colinator' — a robot that accurately picks 96 colonies in under 14 minutes, to an accuracy of less than the width of a human hair. It uses the Bio Image Colony Counting software to highlight colonies on screen for the researcher to choose. Once the best colonies have been chosen, the Colinator gently slices, slides and lifts each colony away from the plate using a syringe needle with an accuracy and reliability of close to 100 per cent. The picked colony is then dispensed into a well, and the needle is washed clean before returning to pick another one. Not only does the robot enable researchers to continue with other tasks, but the gentle picking process keeps the colonies intact and increases the cells' ability to grow and thrive.

Colin Barker, Engineer
The Wellcome Trust Sanger Institute
Have any questions or need help?
Send us an email to info@bioimage.net. We are here to help you select the best in imaging and analysis products.

How To Buy?
Send an email for a quote.
info@bioimage.net