Auto-Calibrating Scanner
Scanner Overview
The Bio Image ACS-5000plus combines a versatile Microtek scanner with our industry proven Intelligent Quantifier®, Advanced Quantifier™, or Intelligent Quantifier-11™ software, to make a system which quickly and accurately analyzes your samples.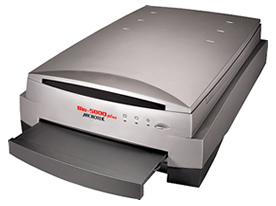 ACS-5000plus
View Specifications
---
Accurate quantitation and analysis across a broad range of samples.
Every scan is automatically calibrated to an NIST certified step tablet. And you can include an image of the tablet with your sample, to insure compliant documentation for regulated applications. The ACS-5000plus scanner operates across the entire visible spectrum (400-750 nm), so it can be optimized for color stains like Coomassie Blue or silver stain, and their 4.0 Dmax dynamic range means accurate quantitation even in dark areas.
With both transmissive and reflective modes, whether you have wet or dried gels, autoradiograms or films, membranes, or dot/slot blots, the ACS-5000plus scanner is ready for your samples.
Easy-to-use, yet powerful, software.
Bio Image Intelligent Quantifier® software is used by thousands of researchers across the world every day to provide accurate quantitation and analysis. The software is intuitive and easy to use, with built-in automation and workflow tools so you can quickly define protocols and run them easily and repetitively.
See what MicroTek has to say.
There's another auto-calibrating scanner out there. You probably know that. After all, their name starts with "Bio", too. Here's a little comparison:
| | Bio | "The Other Bio" |
| --- | --- | --- |
| Bit Depth | True 16 | 12 |
| Max Dynamic Range | 3.77 | 3.0 |
| Replace Calibration Strip? | User | Service Engineer |
| Manufacturer | MicroTek | UMAX |
| Model - A4 | Bio-5000 | none |
| Model - A3 | Bio-6000T | 21000 XL |
Their calibration strip is affixed to the underside of the platen. At first, this is great - it certainly is protected from wet gels or spills. But NIST states: "The optical densities of these step tablets may change over time." [NIST Report of Calibration 38120C Diffuse Transmittance]. What do you do then?
Bio Image calibration strips are both sealed to keep them free of any contamination, and behind a liquid-tight dam which surrounds the sample. So with our scanner, you simply order a new strip, and start using it.
Have any questions or need help?
Send us an email to info@bioimage.net. We are here to help you select the best in imaging and analysis products.

How To Buy?
Send an email for a quote.
info@bioimage.net
..............
Each scanner comes with a copy of Intelligent Quantifier 1-D, or you can upgrade to full IQ, AQ, or IQ-11.