Fluorescent Scanner
Scanner Overview
The Bio-1000F fluorescent scanner from Microtek offers sensitivity and versatility, is compact, and very affordable. Combined with our industry proven Intelligent Quantifier® software, you get the best gel imager available for non-toxic DNA stains!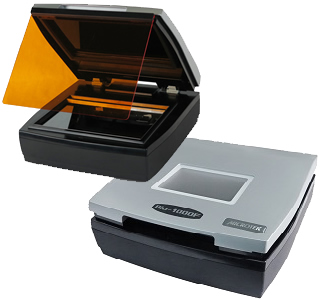 Bio-1000F
View Specifications
Best Gel Imager for Non-Toxic DNA Stains
Sensitivity down to 0.04ng per band!
Its patented optical design and blue LED captures the faintest fluorescent signals.
Versatile
It doubles as a gel excision station, so there's no need to move your samples from imager to cutting platform.
Compact
It has a footprint smaller than a laptop, so is easy to fit into a crowded benchtop.
Affordable
Contact us for a quote.
---
Easy-to-use, yet powerful, software.
Bio Image Intelligent Quantifier® software is used by thousands of researchers across the world every day to provide accurate quantitation and analysis. The software is intuitive and easy to use, with built-in automation and workflow tools so you can quickly define protocols and run them easily and repetitively.
There's other instruments out there.
You can get a blue LED transilluminator with an orange filter plate. You can see bands and excise them. But that's all you get.
You can get a gel doc system with image capture and analysis software. But you'll have to move your samples out of the hood to cut bands.
Or you can get it all:
Gel Excision
Gel Doc
Image Analysis
...and UNBEATABLE SENSITIVITY!
Sensitivity of DNA Stains using the Bio-1000F
Company
DNA Stains
Sensitivity ng/band
Biotium
GelGreen™
0.04
Themo Fisher Scientific
SYBR® Green
0.08
Promega
Diamond™
0.12
UV Light + EtBr
0.5
Nippon Genetics
Midori Green
1~2
NBS Biologicals
SafeView™
>2
Their calibration strip is affixed to the underside of the platen. At first, this is great - it certainly is protected from wet gels or spills. But NIST states: "The optical densities of these step tablets may change over time." [NIST Report of Calibration 38120C Diffuse Transmittance]. What do you do then?
Bio Image calibration strips are both sealed to keep them free of any contamination, and behind a liquid-tight dam which surrounds the sample. So with our scanners, you simply order a new strip, and start using it.
Have any questions or need help?
Send us an email to info@bioimage.net. We are here to help you select the best in imaging and analysis products.

How To Buy?
Send an email for a quote.
info@bioimage.net
..............
Each scanner comes with a copy of Intelligent Quantifier 1-D.