High-Content / Whole Slide Imaging System
Image ExFluorer
The Image Exfluorer is a turnkey solution for all your live cell and whole slide imaging and analysis needs. The platform lets you observe and capture cellular dynamics over time with a customizable fluorescent microscope.
It brings an advanced level of automated microscopy with high-end components to your lab. The options and modules provide flexible scalability to address your research needs, with a wide range of filters and objectives in fluorescence, brightfield, color brightfield, and phase contrast imaging.
In particular, the integrated control and monitoring system allows successful live cell kinetic imaging by mimicking the physiological environment of CO₂, O₂, and humidity. The high-content imaging and analysis tools are very customizable, and are easy to scale up as your research evolves.
Features
All-in-one Integration
2D/3D/Real-time Deconvolution
Multi-dimensional Imaging
High-content Analysis
Environmental Control System
Phase Contrast Imaging
Dark Room Effect
Measure Glutathione Levels in Living Cells (optional)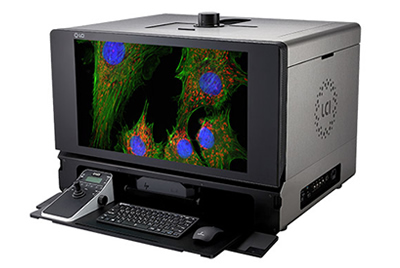 ---
Have any questions or need help?
Send us an email to lci@bioimage.net. We are a North American distributor for Live Cell Instrument products.